'Between Men'
a men's group project in Brussels
Do you feel isolated at times as a man?
Do you miss a place where you can land when you feel bad?
Do you feel you sometimes hit a wall when you want to interact more personally with your male friends?
Do you have a hard time imagining how to get support and connect among men?

Are you curious and willing to explore other ways to be with men?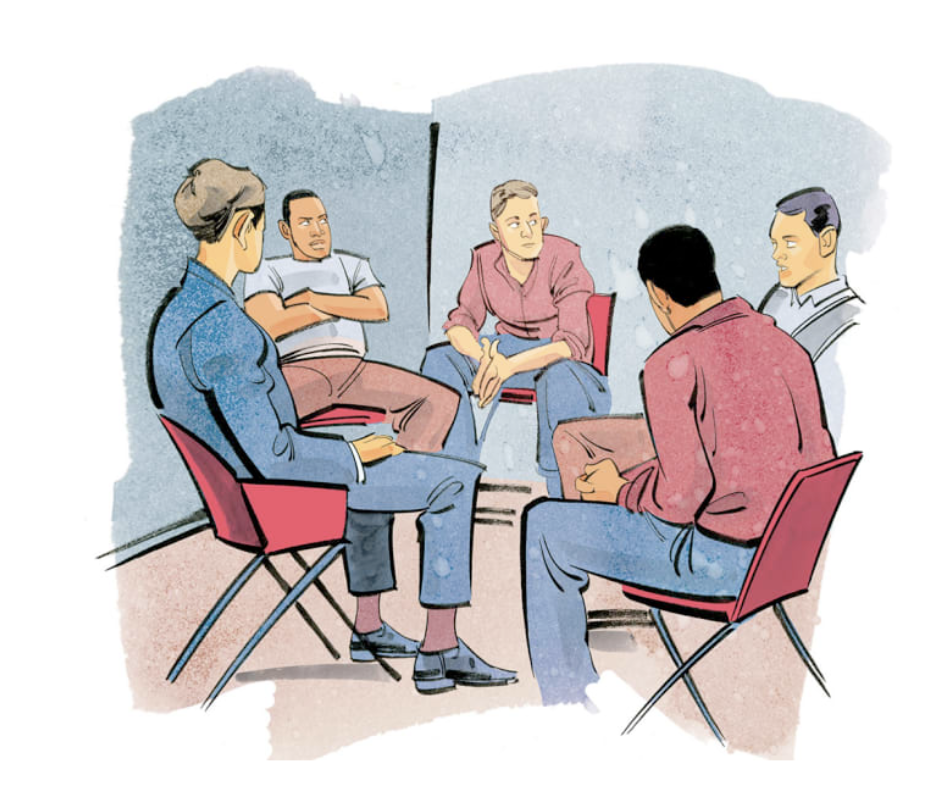 Men are often more constrained by 'masculinity' than they realize.
Fixed images of how and what men are, define and limit many of our interactions as men with each other.
As a result finding support and deeper connection among men is challenging or simply unavailable.
---
'Between Men' organizes men's groups, workshops, events, retreats where men get an opportunity to connect, share, move, be, play, confront, learn, support, grow together.
Check the schedule below and/or subscribe to the email list to learn about upcoming events.

Meet men in a structured and facilitated environment to focus together on a theme that speaks to men and share and learn from each other.

Together with men, discover what lies beyond your identity as a man through hearing other men's stories and experience how that can make you feel more connected to yourself and others.
Good to know before you come
Participation
'Between Men' is designed for cis men from the age of 18 onwards.
Language is a tricky thing in a city like Brussels. To be as inclusive as possible, all written communication for the 'Between Men' meetings will happen in English.
We're still discovering how to navigate language during the group meetings itself, but unless only one native language is represented, I'll be speaking English in the large group. Participants are free to speak their own language or to use English.
Content of the meetings
Through conversations, experience, sharing, listening and feeling you'll get a chance to grow awareness about yourself as a man. All of what we'll do in the group meetings can be understood as 'exploring our masculinity, deepening our understanding of who we are as a man and growing our compassion for the man we find ourselves to be'.
Most of the meetings will be structured according to a certain topic, like 'being a man', 'vulnerability', 'male friendship', 'conflict and anger', to name a few.
All of the meetings will be facilitated by a professional facilitator with or without the help of a colleague. You can read all about me and my credentials below.
What 'Between Men' is NOT
Between Men' is not a place where we'll endulge in a rebuilding of patriarchy, in reclaiming our 'men's rights' or in 'making our gender great again'. Nor is it a place where men can gather to join in their need to express anger and/or hatred towards women.

'Between Men' is designed for cis men, but by no means will we engage in a reinforcement of a rigid gender binary: we believe there are many expressions of gender and many ways to be male.

Although some of the experiences you'll have with 'Between Men' might offer insight and deeper understanding of who you are, these groups are not a substitute for psychotherapy or mental health care.
If you are in need of mental health support please contact a mental health provider. See the links on the bottom of this page.
Or watch a short video where some of the men talk about their experience of a men's work project I lead in Portland, Oregon.
---
Stay up to date ! 👇🏻
---
Local mental health providers: